Roccat Kave Real 5.1 Surround Sound Gaming Headset - Headset Installation
Friday, 06 July 2012 02:03
Last Updated on Friday, 06 July 2012 04:42
Page 3 of 5
Installation:
Installation was a breeze for me, but it also comes with a quick install guide if you need help with it. I believe on 5.1 sound cards, installation should be straight forward, however if you are going to use this headset on a 7.1 sound card like I am doing, then referring to your sound cards guide on how to setup 5.1 on a 7.1 card could be necessary. I already had a 5.1 speaker system setup for use on my sound card so I knew where to plug the connectors in. What is nice though is that the headset comes with caps for the sound card connectors which make for safe storage when you decide to not use the headset.
The only downside in my opinion about this type of connection for the headset is that I have to remove my speaker system to install this headset. For one, I am a person who likes to switch between using my speaker system and my headset as I don't like to always wear my headset when I am at the computer or watching a movie. I do prefer to use a headset while gaming but I don't always like to use the headset all the time. Maybe in future, 5.1 or 7.1 headsets or speaker systems, it can be made so that if you have a speaker system for your computer, you can just connect the speaker system into the headset connectors or vice versa and then from there connect them into the sound card as one connection.
I know you can purchase Audio-Y cables as a solution to this issue but I would like to reduce the extra cabling as much as possible.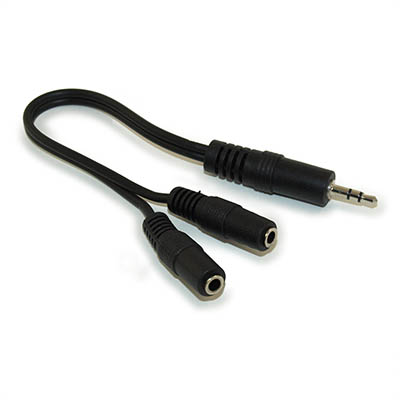 (Image Credit: MyCableMart)

We'll cover more features on the next page before we jump into testing (aka gaming).