D-Link DGL-4500 Xtreme N Gaming Router - DGL-4500 Network Activity Display
Sunday, 27 July 2008 10:08
Last Updated on Monday, 28 July 2008 08:46
Page 3 of 5
Network Activity Display:
There are two main differences between the DGL-4500 and the DGL-4300 from the end-users standpoint that I've noticed. The first is that the DGL-4500 offers 802.11n wireless speeds of up to 300Mbps while the DGL-4300 is capped at D-Links 802.11g Xtreme of 108Mbps. The second major difference is the Network Activity Display. This display replaces the few diagnostic LEDs that are normally found on a router with a full-featured OLED display that shows a lot of router, network and even some diagnostic data. The image below is from D-Link and shows us what the display should look like.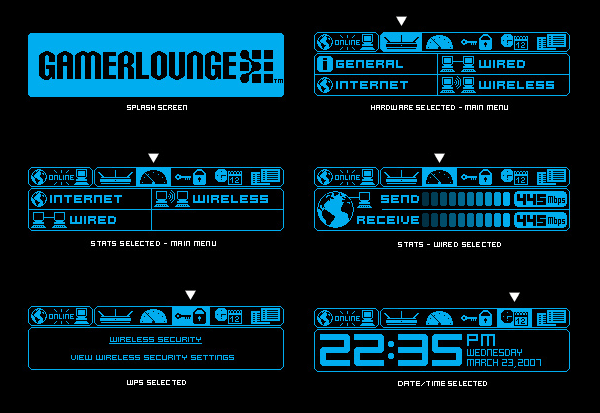 Each section shows a different screen that is available on the DGL-4500. This looks impressive in theory, but how does it look and function in "real life". We've taken some pictures of different screens that are able to be easily displayed on the router. There are two buttons on the router to control the movement and selection through the NAD. Think of them as "Next" and "Select". Navigation is simple but linear. If you want to quickly check on the firewall log, you'll have to "Next" your way through a few other categories first.

Network Status

Router Info

Internet Info

Local Network Info

Wireless Info

Network Speed

WiFi Security

Time and Date
As you can see there is a ton of information available at your finger tips without opening a web page and logging in to check the status of your network, the speed of your upload, download and even how much information is traveling though your router. It is a very comprehensive little addition and very interesting to play with and use. Unfortunately, you can't tell the display to stay lit and display the content you wish it to for an extended period. After about a minute without user input, the display goes blank and pressing a button starts the display from ground zero.
On the following page, we'll cover a few of the main features of the DGL-4500 configuration as we open up a web-page to take a peek.