Samsung Galaxay SIII Announced
Friday, 04 May 2012 15:06
In the announcement many Android (and/or Samsung) fans have been waiting for, Samsung has announced the Galaxy SII Smartphone.
The Galaxy SIII will be sporting a Quad-Core 1.4 GHz processor, 4.8 Inch super AMOLED screen, and will come in 16, 32, or 64GB models. There are also a bunch of other features like improved front and rear cameras, upgraded voice recognition (S-Voice), as well as the phone will include NFC communication capabilities. This time around you will get the choice of either dark blue or white for color choices.
As or right now it kinda appears that this will be the biggest competitor to the upcoming iPhone 5. Samsung however will have a decent head start in sales so it will be very interesting to see how this all plays out in the upcoming months.

Here is a list of a couple site that were lucky enough to get some hands on time with the S3 at the launch event: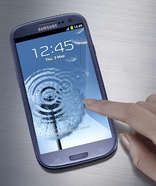 ---