Saturday, 23 August 2014 02:27
Last Updated on Monday, 01 September 2014 06:39
Product: Thecus N550 NAS Server
Provided By: Thecus
Price: ~$429.99 Online at of Publication
Introduction:
Today we are looking at the value-priced and very powerful Thecus N5550 NAS server. This is a large 5-bay diskless box that can currently house five 6TB drives and give you a mix of 30TB of storage. This unit is powered by a Dual-Core Intel Atom Processor and 2GB of DDR3 memory. While it is not designed for a massive corporation, it is one of their higher-end products for the Small to Medium Business. The last product we reviewed from Thecus was the N2310 Dual-Bay unit that was (under)powered by a single-core processor that worked just fine in a home office environment, but simply couldn't perform in a larger environment with more connected clients. The N5550 has one of the best price-to-performance ratios on the market today. It has a long list of features that we'll get into here a bit later, but suffice to say, it's pretty loaded and the price isn't.
Thecus has a ton of different products in different configurations that range from small, extremely affordable dual-bay units all the way up to 16-bay Rackmount units powered by Xeon CPUs. The N5550 really comes in as a very sweet product that is affordable for almost any small-to-medium business and has the capability to grow with you as the 5-bays offer a lot of room as well as different RAID configurations simultaneously.
The Thecus N5550 supports RAID 0, 1, 5, 6, 10 and JBOD and this will allow you to choose either one large (or multiple) stripes of RAID 0 for the best performance or the security of RAID 1, 5, 6 or 10. For this test we ran a three disk RAID 5 array as well as a two disk RAID 1 mirror to see how performance works with two of these more popular RAID arrays. Many people that will be using the Thecus N5550 will probably settle for a RAID 5 array as the performance is very good and you can lose a drive with the other drives maintaining parity and you can replace the defective unit. Of course, if you lose another drive before you rebuild, you'll be out of luck.
About Thecus:
At Thecus, we take pride in developing innovative storage solutions that keep data safe and secure. Founded in 2004, the Thecus team brings decades of R&D expertise, Thecus brand marketing channel development, and a strong customer focus to deliver high-quality products that meet the storage needs of individual, small/medium business and enterprise.
Core Values:
Quality, innovation, integration, and reliability -- the four pillars that Thecus was built on.
Quality - Commitment to bring only the highest quality products to the marketplace.
Innovation - Investing vast resources into research and development to provide high performance and easy-to-use solutions.
Integration - Understanding consumers' needs and bringing the most complete product line to serve various types of applications and environments.
Reliability - Bringing the most secure, easy-to-use, and reliable storage solutions available.
First Look:
The Thecus N5550 is a fantastic looking box that hides all the ugly bits behind a door. The front remains a little contoured with a few buttons on the bottom as well as clear panel for the display to be visible when the door is closed. As you can see in the image below, the sides of the box have some ventilation as well to allow for some airflow for the system components. The bundle includes pretty much everything you'll need to get started and stay running. In the box is a single Ethernet cable, power cable, keys, screws bits, software and everything you need to get the device hooked up on your network and your data saved by way of Acronis True Image (included free). It's a very decent bundle to go with a device that promises a lot.
The front of the drive is nice, clean and it looks great. There is a narrow clear window that allows you to view the activity LEDs for power, network, drives and more. You can also see the bright blue USB 3.0 port on the front, but you can't use it unless you open the door. This is a bit unfortunate as there is very little clearance from the bottom of the door to the desk and if you've got extra pens or a USB cord laying around, the door won't open freely.
The rear of the unit is pretty plain but there is enough connections to be interesting. In addition to the easily removable power supply, there are a few other connections that make this unit stand out. There are audio jacks that include microphone, line in and line out as well as both VGA and HDMI ports. While a few units now come with an HDMI port, many do not include VGA for legacy monitors and TVs. Also on the back of this unit we find four USB 2.0 ports as well as an eSATA port. This gives you the option to install printers, uninterruptable power supplies, hard drives, flash drives and even a keyboard or mouse for some applications. All of this storage is connected by a pair of GB Ethernet ports located towards the bottom of the unit.
With the door open you get a better view of the ventilation that is on the front door as well as all five drive racks. Located to the left of the display are power and reset buttons. The N5550 supports USB copy but that is accessed through a menu on the device itself and requires of course that the door be open. I do like the feature on other NAS products where there is a button located right near the front USB port that allows you to do this procedure very quickly. I plug in my camera or an SD Card Reader to this and quickly make copies of my camera cards after a photo shoot using this method, so simpler, with less buttons is better.
On the next page we'll take a closer look at the hardware and software specifications before we take a closer look at this unit.
Features:
Data Guard
Data Guard backup solution is the ultimate software as it provides both local and remote parts. Currently, data is backed up across RAID volumes, external USB drives, and eSATA. In addition, Data Guard uses innovative technology to sync data across the network to other NAS and servers. More importantly, Thecus® Data Guard is the total backup solution which makes managing NAS user-friendly and convenient.

Data Burn
NAS data can now be burned directly to CD, DVD, and Blu-ray discs with Data Burn, this hassle-free module makes burning data to a disk effortless. In addition, burning ISO image file is also supported. Whether you're managing audio, media or essential files; Data Burn copies information fast while significantly reducing waiting time. The process of burning file to disk is now easy and smooth with Data Burn module.

Antivirus
Thecus' innovative hardware helps prevent failures. But sometimes you have to protect the NAS against itself. Adding an antivirus to the already comprehensive software bundle will provide the necessary software protection by scanning the files on your NAS and defending it against possible threats. McAfee is the world's largest dedicated security technology company and shares Thecus' spirit of dedication and quality. By establishing a strong partnership with them, Thecus will allow users the benefit of McAfee's powerful software on their NAS entirely for free.

Cloud Backup
The private and public clouds meet with Thecus' new DropBox, Amazon S3 and ElephantDrive cloud backup functionality! Guard your data with RAID at home and an additional level of protection in the Cloud. Just drag and drop files into the folder on your NAS and access them on any computer or mobile device with DropBox, Amazon S3 or ElephantDrive.

HDMI Output
Make your NAS into the ultimate multimedia hub! The N5550's HDMI output allows you to connect your NAS directly to your TV for device management, web browsing with Flash support, and even HD video playback. Don't force yourself to watch movies on that tiny little computer screen anymore, take it to the living room!

USB 3.0 Connectivity
The next generation of connectivity is here with speeds 10x faster than USB 2.0. Whether connecting digital cameras and smart phones, backing up large external hard drives, or extending the capacity of your NAS, USB 3.0 will make sure it's done in no time at up to 5 Gbit/s. Backwards compatibility adds the connectivity of a world full of USB 2.0 and USB 1.1 devices to get the best combination of speed and universal access.

Acronis True Image
Thecus brings the best to the table with Acronis's advanced backup software. Back up all your data with One-click Protection or pick and choose only your most important files. Acronis sports a slick interface, user-friendly design, and comprehensive features to keep your data safe.

Multiple RAID
When it comes to data management, Thecus NAS truly let you have it your way. Create multiple RAID volumes each supporting different RAID modes including RAID 0, 1, 5, 6, 10 and JBOD for your own balance of performance and data protection. Should a hard drive malfunction occur, changing one is simple thanks to online RAID migration and expansion, hot spare, and auto rebuild.

Multiple File Systems
Support for multiple file systems including EXT3, EXT4, and XFS, gives Thecus NAS flexibility to handle many different types of environments. Users can simultaneously use different file systems across multiple RAID volumes to get the best of each one.


iSCSI Thin-Provisioning
Get the most out of your storage space with the extreme speed of iSCSI and the efficiency of iSCSI thin provisioning. Connect through iSCSI for the fastest data transfer speeds available and make wasted disk space a thing of the past with thin provisioning's flexible storage functionality.

iOS/Android Connectivity
In the modern world, nothing is as important as reaching your data from anywhere. With T-OnTheGo and the T-Dashboard, you can manage your NAS, and upload to and download/stream from your NAS using an iOS or Android device on the go.

Rsync
Backing up your data is very necessary, and everyone has specific needs when it comes to storage. Thecus's Rsync functionality gives users great flexibility with remote backup capability, a flexible scheduler, and the stability of Linux-based transfer.

User Quotas
Divide the massive storage of a Thecus NAS among multiple users. Whether there are two users or 100, user quotas make it easy to divvy up and manage disk space.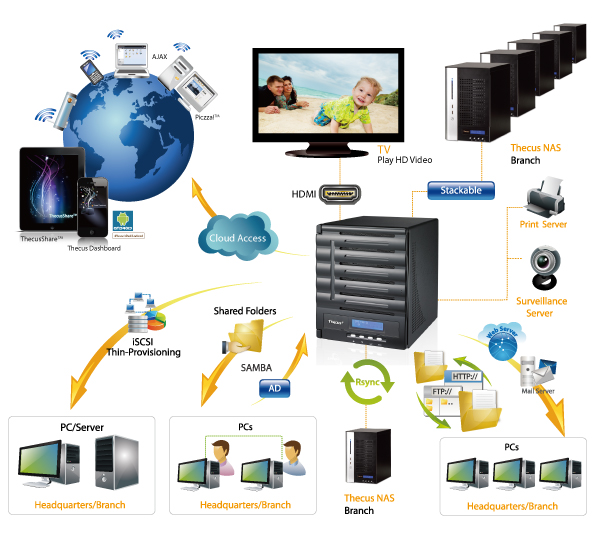 Hardware Specs:
Software Features:
On the next page we'll look at the software setup as we begin really looking at this unit.
Drive Installation:
Just before we jump into the software side of things and the setup for the Thecus N5550, we need to set up the hardware side of things. There are five drive bays on this device and you can use a mixture of drive sizes depending on your goals. As with most NAS products today, the Thecus N5550 supports both 2.5" and 3.5" drives and there are enough screws and holes to fasten the 3.5-inch drives with four screws each. Below are a few images of the trays and different drives.
Once the drives are in the racks, they easily slide into place and are secured by the traditional mechanism on the front. The drive racks feels quite sturdy and very sleek. The rack for the N5550 is much different than for the N2310 and this is a good thing. While those racks were sturdy as well, they lacked the professional appearance and finish that this one has. These racks should provide many installs and drive swaps without failing.
Software Installation / Basic Setup:
While some other NAS products we've looked at have a great software solution to get started, I found that with the N5550, the display shows you what the IP address of the NAS was, so I connected directly to the webpage to set it up. Once at the main login screen, I logged in with the default username and password and proceeded to walk through the setup built into this device. The first thing that was done was notification setup, followed by RAID creation, user creation and then waited a few minutes for all of this to complete, the RAID arrays to be initialized and formatted and we were good to go.
The interface is nice and clean and has a few more features available that the N2310 we looked at previously. This of course is thanks to the extra drive bays and no doubt to the Intel Dual-Core processor. While the interface is nice and clean overall, there are still a few issues with spelling, spacing or general formatting that make it look a little less than professional.
Following the lead from other companies and their own entry-level products, once you've logged in through the super-slick interface, you are met with a much-less slicker interface that really doesn't feel done. While the functionality is great - the interface feels unfinished in my opinion. They need to build in a more cohesive experience and it would be a lot easier to navigate and manage.
On the next page, we'll take a look at a few of the extra features that make the Thecus N5550 a Network Attached Server - rather than just storage.
Extra Features:
There are a ton of extra configuration options with the Thecus N5550 NAS and we'll just cover a few more below. There are very few applications that come installed in the basic bundle, but more can be installed with a single click in the NAS Application menu. Dashboard (for Android), Plex, and Boxee can all be installed with a couple of clicks, but there's more. One thing that blew me away is the fact that you can install other things like a full McAfee virus scanner as well as things like a TeamSpeak 3 server as well as a full-on Minecraft server. That's right. This is not just a file or media server. Thecus has really stepped up their game and ported a few other things over to really add value to this product. There are a lot more applications that can be installed by heading to the Thecus site, downloading the application and then installing it through the web interface. Again, this is not as elegant of a solution as is on QNAP and ASUStor where the available applications are listed in the NAS interface through live web updates, still the hundreds of apps that are available make this worth checking out for sure.
There are a host of networking options to customize if you require, and what I find very cool is that is that the notification area allows you to set up alerts for email notifications or beep notifications. These notifications can be triggered for a variety of things including drive failure, power failure (if resume is enabled) and more. I use a feature like this often on client boxes and it has saved their bacon numerous times.
There are backup options that will allow you to hook up your PC for automated imaging and the Thecus N5550 can even burn your files to a connected drive. This is a nice feature for sure. RSYNC is quite proprietary on this system and while it looks like it should be pretty universal, you'll probably have to be a Linux guru and log in to SSH and configure it to work with your non-Thecus system.
System Resources
External Features:
The Thecus N5550 sports both USB 2.0 and USB 3.0 connections and thanks to the faster processor, the performance of these connected devices is much better than on the little sibling N2310. The external USB ports support printers, UPS', external drives and more. I also like the included audio ports and HDMI connects that allow you to plug this into a TV or Audio Receiver to make it your true multimedia server.
On the last page, we'll cover some performance tests as well as talk about general use before we wrap things up with our conclusion.
Performance Tests:
The performance of the Thecus N5550 is pretty solid. We didn't have five matching drives so we got a little creative and created a couple of drive arrays to check out. Network performance on both RAID arrays is pretty decent for sure and in fact, the write performance is the best we've seen. No matter how we sliced it, the performance was rock solid. Thecus claims the drive can read up to 104MB/s and write at 112MB/s. In our tests we saw pretty close to that on the write tests, but the read tests came in a little lean on both RAID arrays.
For a real-world write test we used a file creation utility to generate a 4GB file on the Thecus N5550 as fast as it could and as you can see, it created this 4GB file in just under 42 seconds on the RAID 5 array and at just over 35 seconds on the RAID 1 array. That equates to a real-world write speed of just over 116.9MB/s. That is incredible!
We saw read speeds right on par with the write speeds and again, I attribute this to network throughput as much as drive throughput - not the capability of the NAS.
I've included the results from the ASUStor AS-604T and Thecus N2310, but this is like comparing apples to oranges. The reality is they are running completely different drives, RAID arrays and have entirely different processors. Still, you can see that the Thecus N5550 takes the write speed crown - even with some odd RAID arrays and older drives. I thought I'd include this data for reference only and it's not meant to be a straight comparison between units.
Usage:
The Thecus N5550 is a solid product to use. The performance for network attached storage is great and it currently is the fastest NAS that we've tested. The box has more than enough features for the home or small business user including Time Machine backup, iTunes server, Plex, FTP, Web Server, DDNS, WebDAV support, user accounts, quotas and a whole lot more. You can install a bunch of other applications including CrashPlan, TeamSpeak3, Minecraft, McAfee and more.
The only real beef that I have with the Thecus N5550 is the ThecusOS itself. It feels unfinished. It does have easy access to features, applications and more, but it just doesn't feel polished. Other applications that are installed feel very separate from the system. As with the N2310, all of the features work well enough, but they really do need to spend some more time polishing off the rough edges - and spelling this correctly. This is not a deal-breaker by all means as the N5550 is perhaps the best value in any SOHO NAS around as it has five bays and stellar performance, but it is something that could be worked on to make the user experience that much better.
Conclusion:
At the end of the day the Thecus N5550 is a very solid product. What it lacks in smooth and polished web interface it makes up for in performance, value and in features. It is one of the most feature-packed NAS units we've seen and comes it at a lower price point than many 4-Bay NAS units without a display. The hardware under the hood is very comparable as well and you're not giving up any performance when you choose this unit as your main file storage server. I do like the fact that Thecus has a growing selection of mobile applications that add to the flexibility of the N5550. Many of these are available for both iOS and Android platforms and this attention to their user base is a very good thing.
The N5550 has a ton of RAID options that are possible with five bays and we were able to test out a couple of them. Overall the performance was very good as it powered by a dual-core Intel processor and it comes with 2GB of DDR3 memory. Thankfully, with that extra processing power, the USB interface is a pleasure to use - unlike the N2310 that was powered by a single-core ARM processor. There isn't anything at all to complain about in terms of performance.
The experience for a single user is very good and we upped our game and connected multiple machines to this box and pounded in for a few weeks. In the end, the performance was limited to the network connection coming out of the N5550 and we were able to saturate it and still get very good performance. When copying files to and from this machine, we saw that we were able to read at about 60MB/sec while at the same time write at around 90MB/sec. The CPU usage was pretty high at that point, but it served up files just fine.
There simply isn't much to complain about with the N5550 from Thecus, and there is quite a bit to be happy about. One of the biggest reasons to be happy is the $420 price tag (currently) and the fact that it has five bays. This is an amazing deal if you need data security on a device such as this. I don't think you can find a more powerful device with more bays for less money.
Pros:
Lots of connectivity options (USB2.0/USB3.0/eSATA/HDMI)
Supports JBOD, RAID 0, 1, 5, 6, 10 and Single Disk Volumes
Display on unit lets you see network settings, alerts and more
So many options
Much cheaper than the competition
Media Server / Media Player
HDMI and audio connectivity
Cons:
Web interface still needs more polish
Installing software is a bit more clunky than with other products
I would like to thank Thecus for sending over the N5550 for us to review. It was great to see the follow-up to their entry-level unit and to see how much better this performs under a bigger load.
If you have any questions or comments, please make sure to drop us a line in the forum at the link below.