Friday, 06 July 2012 02:03
Last Updated on Friday, 06 July 2012 04:42
For the first time in my short reviewing career, I'll be looking at a new headset from Roccat (pronounced Rocket), called the Kave. This headset is looking to turn some heads and open some eyes, just like those hot models that you see when walking down the street. Some of the features of this stylish headset include a detachable mic, a thick and sturdy cord, a control unit on the headset cord, status LEDs and real 5.1 surround sound. This headset could be a gem among rocks.
The opening of the box was unique and easy and everything inside of the packaging was attached securely so that nothing would move around and get damaged. I am definitely a fan of this.
On the next page we'll take a look at the features and specifications before we jump into testing and gaming.
Before going in depth on the product, I would first like to share the technical specs that are found on the Roccat website.
MICROPHONE
| | |
| --- | --- |
| Frequency response: | 20~18,000Hz |
| Sensitivity at 1KHz: | -36dB |
| Directivity: | omni-directional |
| Diameter: | 4x1.5mm |
SYSTEM
| | |
| --- | --- |
| Connection: | 4 X 3.5mm jack plug |
| Impedance: | 32 Ohm |
| Cable length: | 3,4m total (2,0m Remote > PC) |
| Between ear cups and remote: | 140cm |
| Between remote and splitter: | 180cm |
| Between splitter and PC: | 20cm |
Further Information:
System Requirements
5.1 Soundcard for surround sound playback
(or Stereo Soundcard for stereo sound playback)
Free USB Port (500 mA) for power supply
Package Contains
ROCCAT™ Kave – Solid 5.1 Gaming Headset
Tip'n'Control Desktop Remote
Inari Case Mission Book with ROCCAT ID Card
Quick Installation Guide / User Manual (PDF)
5.1 Surround Sound Demo CD
Installation:
Installation was a breeze for me, but it also comes with a quick install guide if you need help with it. I believe on 5.1 sound cards, installation should be straight forward, however if you are going to use this headset on a 7.1 sound card like I am doing, then referring to your sound cards guide on how to setup 5.1 on a 7.1 card could be necessary. I already had a 5.1 speaker system setup for use on my sound card so I knew where to plug the connectors in. What is nice though is that the headset comes with caps for the sound card connectors which make for safe storage when you decide to not use the headset.
The only downside in my opinion about this type of connection for the headset is that I have to remove my speaker system to install this headset. For one, I am a person who likes to switch between using my speaker system and my headset as I don't like to always wear my headset when I am at the computer or watching a movie. I do prefer to use a headset while gaming but I don't always like to use the headset all the time. Maybe in future, 5.1 or 7.1 headsets or speaker systems, it can be made so that if you have a speaker system for your computer, you can just connect the speaker system into the headset connectors or vice versa and then from there connect them into the sound card as one connection.
I know you can purchase Audio-Y cables as a solution to this issue but I would like to reduce the extra cabling as much as possible.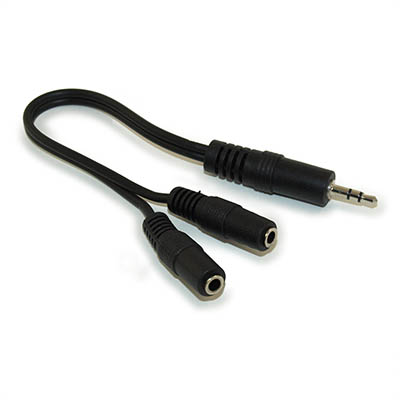 (Image Credit: MyCableMart)

We'll cover more features on the next page before we jump into testing (aka gaming).
Features: In-depth.
The first of the many features we will talk about is the removable mic with mute LED. The mic being removable is a really cool feature of this headset because it is connected via an RCA like connection and thus you can disconnect and connect it without having issues of something not working when doing so.
The other cool feature about this mic is the mute LED. No longer do you have to worry about awkward and funny moment of trying to respond to teammates and friends but realizing you are only talking to yourself because your mic is muted. With this cool new feature you now know for sure if your mic is mute or not, as it's a nice bright blue light to let you know when it's muted. The other LED lights on this headset unit are also good in the fact that it lets you know if you have power to your headset or not.
Another great aspect of this removable mic is the fact that it is sturdy and flexible all at the same time. It is sturdy for the fact that you can rotate the mic via the RCA like connect and that when you are done moving it, you know it will be not be moving on its own. The other sturdy but also flexible part is the mic itself, as you can move it very easily up and down so that it can moved to a likeable position, but it's also sturdy that once it is released, it won't move again until touched. In my opinion this is a really cool feature because so many times have I seen headsets that either have a flimsy and thin mic or a too thick and too rigid of a mic.

The major feature of this headset is the 5.1 surround sound which is achieved using four speakers, two in each ear cup, along with two sub speakers, one for each ear cup. Based on what I could see, which is three speakers for each ear cup and on documentation of this product, I have to believe that the center is virtualized somehow in order to complete the 5.1 system. Whatever the case may be, they sure did a great job as it does sound like a 5.1 system.
The Tip'N'Control desktop remote is a really amazing feature and a must have for all headsets.
You can control the volume with a spin of the dial, mute the headphones with a push of the large circular center button, control the different channels with the level slides, change profiles between game or movie with the switch, and mute and un-mute the mic with the side mic button.
I love the functionality of the headphones mute button and the dial volume control; it's such a neat and innovative design. The only downside about the volume control and headphones mute button is that they control the system mute and the system volume of the computer. I find it far better if the control unit only controlled the volume and mute of the headphone unit and not the computer. Still I love the concept and design of the control unit. The next awesome part of this control unit is the profile switch, where you can switch between game and movie mode. Watching a movie while using movie mode almost makes it seem like you are in the movie theater watching it. The game mode, what more do I need to say; it's specifically made for gaming and in my opinion very well done. To go along with that, the level slides for center, front, rear and sub are pretty awesome.
While on game preset mode and when you just have a voice application open such at Teamspeak 3 you are able to hear how the level slides affect the different aspects of what you hear. But while running a game it's like the center slide becomes the volume for the voice client and the front/rear become different volumes of the game, while the sub slide still affects the vibrations and such from explosions and the like. Though as I looked further into this it seems that you have to start the game first before voice chat program to achieve this, however this could be something limited to my system only. Even if it wasn't an intended feature, I actually find this to be kind of cool and helpful in certain situations.
The next part well look at is the overall physical design of the headset. First we'll start with the ear cups. These ear cups are some of the most comfortable ears cups I have ever felt on a headset. They almost make it feel like nothing is there, but to cap it off they have amazing sound canceling qualities, but I'm not sure the other people in my house enjoy that as much as I do. If someone is trying to call me from the hallway and my door is open, I still have trouble hearing them. This is a great way to tune things out. The solid aluminum hinges are also a great feature as they are very durable so you don't have to be careful with setting them down when you are done using them or if they accidentally hit something or get hit. They also make them easy to carry as you can fold them up to put them in a bag or in a smaller space than would normally be required from a headset that does not fold up.
As we get to the headband with the three pads for equal weight distribution, I personally thought this was a neat idea and wanted to test it out. At first I thought they were really awesome but after wearing them for a couple of hours, I began to feel pain at the top of my head and I realized the pads do not lay well on my head. It seems the headband has too much of an angle forward for my head and so the front part of the three pads are the only part that are touching my head. With so much weight at just three points, it's only natural that pain will come about sooner or later. For me personally I think maybe less of an angle on the headband or even just a nice big puffy pad along the top might fix that issue. Aside from that I thought it was designed pretty well.



Tests:
As I stated before, using the movie preset on the control unit really makes it feel like you are in a movie theater. In my test of the movie preset, I watched the movie Contraband. The sound directionality is perfect and most of the levels are very good. However, I did feel that even though I had the sub level slide all the way up it just seemed like the bass levels were a little low for stock bass. I was able to fix the problem by increasing the bass balance in my system's sound preferences. This really gave it that "in the movie theater" feel that I strive to get when I watch movies.
With each test I reset my system levels back to default before doing the next test and so my next tests were to test out some music, and see how it performed in movie mode.
The first song I tested was Bass Cannon by Flux Pavilion in order to see how the bass levels came out. Like the movie I watched, I had to increase the bass balance of my system's settings. The next song I tested was Dirty Money featuring Skylar Grey – Coming Home. Along with the other tests I had to increase the bass balance in my system to get the desired bass I was looking for. The last song I tested was Spirit in The Sky by Norman Greenbaum. With this song, it sounded great without having to make any adjustments to my sound settings. This may be due to the fact that I knew how much bass to expect from each particular song and with rock songs there is not a huge emphasis on bass as there is with the genres of the other songs that I tested.
My last and final test was testing out the game preset while playing a game. The game I chose to test this with was Call of Duty: Black Ops. The directionality of where sounds were coming from, were pinpoint and really helped me in finding out where my enemies were. Though like the other tests it just seems like maybe something was missing from sub level. Although it was not much in this case and more like a touch of something was missing, they still performed really well. Being able to hear where enemies are coming from or which direction they are shooting from is very important in gaming and this headset and its surround sound have done an amazing job at achieving that.


Final Thoughts:
As we look back over this gaming headset, there are a lot of talking points that we can take away from it. Audio quality, as you would expect, is extremely good with the only downside in my opinion that it lacked a little in stock bass however that was remediable by adjusting my systems bass settings. The front and rear speakers along with the virtualized center speaker in each ear cup really allowed you hear some pinpoint directionality with excellent quality. The movie profile for watching movies and listening to music is also top quality. Feeling like you are in a movie theater is definitely an awesome experience while using this headset.
The people over at Roccat definitely hit the ball out of the ball park with this headset. The 5.1 surround sound, the detachable mic with mute LED, The Tip'N'Control desktop remote are things of beauty and must haves on any headset. Not to mention the extremely comfy ear cups that basically cancel out almost all outside noises and the easy ability to fold them up and carry around, really make this headset outstanding.
As far as overall quality and value go, I have to give this headset a high mark. There were only a few issues that I had with the headset but two of those are minor and for the most part can be fixed easily. Those two issues are that the stock bass levels are just a little bit off and that you can't have the headset and your 5.1 speaker system plugged into the same card unless you use some small audio-Y cables to rig it up that way. They next two issues I would say are slightly more important but nothing really major. The first is that the Tip'N'Control desktop remote controls the system mute and system volume of your computer, which personally I would rather it just control the headset volume and mute and not touch the systems volume, as I am a person that like to use a 5.1 speaker system along with a headset.
The last and final issue I had is that the headband with the three pads is slanted slightly to far forward and so really only the front part of the pads touch my head, which after a few hours of wearing the headset can start to give you a pain on the top of your head. Usually an adjustment of the placement on the head can fix that for a little while longer though. But those four issues in comparison to all the other extremely well done features of this headset seem more of mute points than major issues. This headset was definitely designed with the gamer in mind and was exceptionally well done. This headset is also very sturdy and durable so that it will definitely stand up to a lot of regular use and won't break like those cheaply made ones that are out there. This Roccat Kave headset was definitely a joy to use and still will be for many more hours of gaming to come.
Pros:
Detachable mic w/ mute LED
Flexible yet sturdy mic
Sturdy and durable designed for long term use
5.1 real surround w/ precise directionality
Extremely comfortable noise canceling ear cups
Tip'N'Control desktop remote w/ level slides and game/movie mode switch

Cons:
Desktop remote controls the system volume and mute and not just the headset's
Headband slanted slightly to far forward
Please feel free to post your thoughts comments and questions for IronMan, please post them in the forum at the "Comments" link below.