Sunday, 27 July 2008 10:08
Last Updated on Monday, 28 July 2008 08:46
Product: D-Link DGL-4500 Xtreme N Gaming Router
Provided by: D-Link Canada
Price:
Introduction:
D-Link is a well known name in the networking business. This company has been around since 1991, and has provided cost effective network solutions for both home and corporate users. For the most part, networking equipment isn't really that new or innovative, but a few months back D-Link released an updated router to their Gamerlounge line that takes home networking to the next level. The DGL-4500 provides users with a Gigabit wired backbone to their home network and makes wireless streaming of HD content possible thanks to the 802.11n wireless capabilities of this router.
D-Link has kept with the times and upgraded their original wireless Gaming Router the DGL-4300 with a few new features, updated Quality of service engine and a faster wireless network. The DGL-4500 still has 4 10/100/1000 base Auto MDI/MDI-X ports that provide a full duplex Gigabit network for your wired connected computers. It now features D-Links Xtreme N Duo wireless network that uses both 2.4GHz and 5GHz bands to reach out farther and faster than before. Another thing that D-Link has preserved is the advanced routing capability that is generally only available with hacked firmwares or on full Linux systems. For instance, if your ISP blocks the popular port 21 for FTP and port 80 for http, you won't be able to host FTP or WEB servers from home. D-Link has overcome this obstacle and allows you full port-forwarding so that you can broadcast FTP on another port and the router will forward that to the proper port on your internal network. Sound confusing? It's actually quite simple as you'll see in a little bit. Lastly, D-Link has packed the firmware of this router with some of the most advanced packet-prioritizing software available for a consumer device. This technology is called GameFuel, and it is supposed to drop ping from your games and make them lag free. We'll see.
First Look:
The DGL-4500 is the evolutionary result of the DGL series of products from D-Link. Its predecessors were the DGL-4100 (Wired Only) router and the DGL-4300 Wired/Wireless router. True to Gamerlounge style, D-Link has packaged this router in a nice flashy box that will certainly catch you eye when it is sitting on the shelf. I'm not sure how much they spent on designing the box art, but it's pretty special.
The DGL-4500 comes with absolutely everything you need to get up and running quickly. It comes with a power cord, network cable, manual, software CD with manual, a stand, mounting screws and three reverse SMA antennae for the wireless N network. All you need is an internet connection to plug into the 10/100/1000 WAN port and you're good to go. That's right this beast supports up to 1000b WAN. Hopefully that is the future of internet here in Alberta and I'm able to get in on it.
The DGL-4500 has basically the same footprint and dimensions as other D-Link products, but doesn't have the stacking feet that previous D-Link routers have had. The finish of this unit is rather slick and instead of a matte finish like the other DGL-4x00 routers have had, the DGL-4500 has a glossy plastic body that shows off fingerprints a little too well. Most of the time fingerprints on a router are a non-issue, but with the Network Activity Display (NAD) on the DLG-4500, you're going to be touching this router a little more than most routers.
One thing that may not be immediately apparent from the image above is that there is only a single LED on the front of the router. The only LED on this unit indicates power, and the rest of the information has to be accessed through the NAD. This adds a whole new level of class to the unit - although it may not be as handy to glance over and see if your wireless network is up and running.
As is standard with Wireless N Routers, there are three antennae on the back of this router and they use standard RPSMA connectors. If you need a little more power, you'll be able to easily add stronger ones in place of these. Also on the back of this unit are four 10/100/1000 ports for your LAN as well as the 10/100/1000 port for your WAN. There is also a USB port for (Windows Connect Now) and the standard power input and reset button.
On the next page we'll carry on with the features and specs before we take a look at the Network Activity Display.
Features & Specs:
Before we jump in and see what this router can actually do, let's take a look at the features and specifications of this router according to D-Link.
BUILT FOR GAMING
It's not everyday you come across a device designed solely with the gamer in mind. The D-Link® Xtreme N™ Gaming Router (DGL-4500) is one of those few devices built especially for gamers. Experience the power of our Xtreme N Duo™ wireless technology for data transfer rates of up to 300Mbps* and Gigabit LAN and WAN Ports to get your game on faster than ever before. We've also added an updated version of our award-winning GameFuel™ technology to get your game going smoother. To top it off, we've thrown in a high-performance CPU and a Network Activity Display to give you a serious gaming router.

GAMEFUEL PRIORITY
Nothing ruins a frag-fest faster than lag. GameFuel allows you to customize your network settings to prioritize game traffic so your roommate doesn't hog all the bandwidth while downloading tracks from his favorite 80's hair band.

NETWORK ACTIVITY DISPLAY
You can never have too much information. That's why we've included a Network Activity Display to show you what's going on with your router. Check your Internet, LAN, WAN and other various settings all from one screen. We've also included a clock in there so you can see exactly how long you've spent playing the game and not taking out the trash.




XTREME WIRELESS
Playing by yourself can be fun, but getting online and fragging others is way better. Make sure your wireless signal can make it into the basement with our Xtreme N Duo wireless technology*.

With Xtreme N Duo technology your router also has the power of dualband (2.4 or 5GHz) wireless signals to get your game on in the wireless band of your choice.

GIGABIT GAMING
Push the limits of networking technology and experience the evolution of gigabit speed. Share broadband Internet, boost network performance and stay competitive in your online games.

Built with the gamer in mind, the Xtreme N Gaming Router (DGL-4500) combines our latest GameFuel technology, Gigabit ports, high-performance CPU, and the new Network Activity Display to give you our best gaming router ever.

Specifications
Standards

| | |
| --- | --- |
| • | IEEE 802.11n (draft 2.0) |
| • | IEEE 802.11g |
| • | IEEE 802.11a |
| • | IEEE 802.11b |
| • | IEEE 802.3 |
| • | IEEE 802.3u |

Interface Type

| | |
| --- | --- |
| • | 4 Gigabit LAN Ports |
| • | 1 Gigabit WAN Port |
| • | USB Port (for Windows® Connect Now) |

Antenna Type

| | |
| --- | --- |
| • | 3 External Reverse SMA Dualband Antennas |

Security

| | |
| --- | --- |
| • | 64/128-bit WEP |
| • | WPA™ & WPA2™ (Wi-Fi Protected Access) |

Advanced Firewall Features

| | |
| --- | --- |
| • | Network Address Translation (NAT) |
| • | Stateful Packet Inspection (SPI) |
| • | VPN Pass-through / Multi-sessions PPTP / L2TP / IPSec |

Device Management

| | |
| --- | --- |
| • | Internet Explorer® v6 or later; Mozilla® Firefox® v1.5 or later; or other Java-enabled Browsers |

Certifications
Dimensions

| | |
| --- | --- |
| • | Item (WxDxH): 4.6" x 7.6" x 1.2" |
| • | Packaging (WxDxH): 9.6" x 11.1" x 3.1" |

Weight

| | |
| --- | --- |
| • | Item: 0.7 lbs |
| • | Packaging: 2.0 lbs |

Warranty
Package Contents

| | |
| --- | --- |
| • | Xtreme N™ Gaming Router |
| • | 3 Detachable Antennas |
| • | Ethernet Cable |
| • | Power Adapter |
| • | CD-ROM with Installation Wizard, Product Documentation, World in Conflict™ Content |

Minimum System Requirements

•
Computer with:
Windows Vista™**, Windows® XP SP2, or Mac OS® X (v10.4)***
Internet Explorer® v6 or Mozilla Firefox® v1.5
CD-ROM Drive
Network Interface Card
•
For Internet Access:
Cable or DSL Modem
Subscription with an Internet Service Provider (ISP)

Recommended System Requirements

| | |
| --- | --- |
| • | For Optimal Wireless Performance: Use with D-Link Xtreme N Adapters (DWA-552, DWA-556, DWA-643, or DWA-652) |
On the next page we'll take a look at the Network Activity Display that replaces and enhances standard LEDs on a regular router.
Network Activity Display:
There are two main differences between the DGL-4500 and the DGL-4300 from the end-users standpoint that I've noticed. The first is that the DGL-4500 offers 802.11n wireless speeds of up to 300Mbps while the DGL-4300 is capped at D-Links 802.11g Xtreme of 108Mbps. The second major difference is the Network Activity Display. This display replaces the few diagnostic LEDs that are normally found on a router with a full-featured OLED display that shows a lot of router, network and even some diagnostic data. The image below is from D-Link and shows us what the display should look like.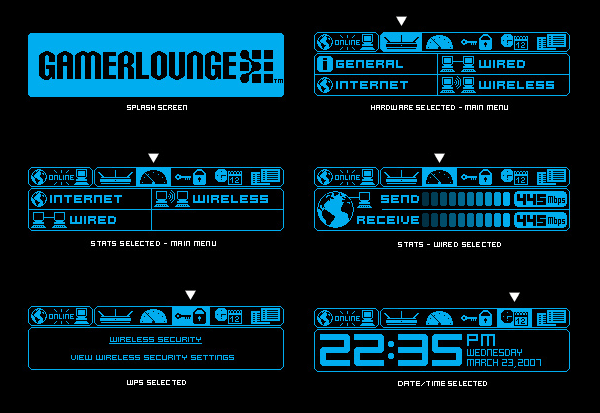 Each section shows a different screen that is available on the DGL-4500. This looks impressive in theory, but how does it look and function in "real life". We've taken some pictures of different screens that are able to be easily displayed on the router. There are two buttons on the router to control the movement and selection through the NAD. Think of them as "Next" and "Select". Navigation is simple but linear. If you want to quickly check on the firewall log, you'll have to "Next" your way through a few other categories first.

Network Status

Router Info

Internet Info

Local Network Info

Wireless Info

Network Speed

WiFi Security

Time and Date
As you can see there is a ton of information available at your finger tips without opening a web page and logging in to check the status of your network, the speed of your upload, download and even how much information is traveling though your router. It is a very comprehensive little addition and very interesting to play with and use. Unfortunately, you can't tell the display to stay lit and display the content you wish it to for an extended period. After about a minute without user input, the display goes blank and pressing a button starts the display from ground zero.
On the following page, we'll cover a few of the main features of the DGL-4500 configuration as we open up a web-page to take a peek.
Router Setup:
Most of the router setup is pretty straight forward and there isn't much use me stating the obvious. I've included quite a few screenshots of some of the more advanced features as well. Things like Advanced Routing, Virtual Servers, Quality of Service settings, Application Rules and more. As I mentioned, most of it is pretty simple so make sure you take time to click through the screenshots in the gallery so you can understand what is behind the DGL-4500 to make it tick.
The router shipped with the 1.02 revision firmware and this firmware still appears to be the most current version although it is rather old - November 13, 2007. Regardless, everything seems to work and you can easily hook up an iPod touch or iPhone to the wireless network. Some people have reported issues with D-Link routers and iPods, but this combination works fine.
The setup wizard will work fine for most people but if you're a hands-on kind of person, the images above will let you see what is available in the Basic Settings.
Advanced Settings:
As we head into the advanced settings, I'll remind you to take a look at the gallery and click your way through these images here as we'll over cover a few below.
The Virtual Server allows you to run servers on the web from your networks that are normally blocked by either your firewall or your ISP. This allows you to open ports and to port forward in order to run these services. For instance, most ISPs block port 80 and port 21 for HTTP and FTP respectively. If you want to run an FTP server on your home network and have it available to the public on the web, you can specify that port 21 on your internal network should be port 8111 or something similar on the web. This way you can run a web-accessible FTP server at 111.1.11.111:8111 for example. If you tried to run this on port 21 (standard FTP port), it would not be accessible. The DGL-4500 allows you flexibility in this area.
Gamefuel is the QoS engine that helps the D-Link DGL-4500 packet shape or packet prioritize in order for your games to continue to run without lag or packet loss even on a busy network. If you have more than one machine behind your router and other people are using the web when you're in the middle of a gaming session, you'll often experience lag as your internet connection is handling a lot of traffic from other people streaming media or just browsing the web on your network. With Gamefuel enabled, your games take top priority and all other traffic gets put last - enabling better performance and less lag on your games. It works well and is a must have for any gamer.
Tools & Status:
Like previous Gamerlounge routers, there are a few tools the help you get the most from your unit. The Admin Tool is a great place to start and setup a new password and create users if needed. The status pages give you a great overall breakdown of what is going on - and in more detail than the Network Activity Display on router itself.

On the last page we'll take a look at how this router performs in terms of network performance.
Network Performance:
Although many people, especially enthusiasts will never admit that they had to have help setting up a router or figuring out what certain features do, the Help section of the DGL-4500 is quite amazing. It covers pretty much everything to, well, everything and is a great feature to include in such a robust router. Navigation of this interface is very easy and it provides some insight and advice really on how to configure your little black box.
As far as performance goes, we fired up iperf to do a little benchmarking on this router. Iperf results show bandwidth that the network is actually capable of. In the real world, you won't see wired transfer rates approaching 1000mpbs because hard drives are not fast enough to read and write at this speed. Also, CPU overhead becomes an issue when transferring this much data. We use iperf with confidence as it shows how good the network hardware actually is and if it can perform anywhere close to its rated specs.
We ran through several instances of iperf and each instance transferred data for 5 minutes. The results were averaged are displayed above. As you can see the DIR-655 shows slightly better "N" performance while the DGL-4500 shows faster G/N mixed performance. Both of these results are so close that you wouldn't likely notice it in the real world. When it comes to a wired Ethernet connection the DGL-4500 does very well and comes in at 945mbps - just 55mbps short of a true 1000b network! Keep in mind that network cable will play a major role here. We used Cat.6 cable for our tests although Cat.5e is supposed to work with GB networks as well.
Conclusion:
Once again we see the 802.11n wireless network falling short of its rated 300mbps speed, but the wired 1000mpbs network is lightning fast. Combined with Gamefuel, a host of Virtual Server applications, Web filtering and more, the DGL-4500 offers a great package for any gamer. If you've got more than one computer on your home network and want the increased speed of an "N" based wireless network, this router is a great choice. Like previous DGL-4x00 series routers, the DGL-4500 has great port forwarding capabilities that allow you to run multiple web servers and FTP servers from your home - even if your ISP blocks standard ports.
The DGL-4500 is nothing groundbreaking however; it is basically a jacked up version of the DGL-4300. That being said the new Network Activity Display is handy for checking the status of your router without having to turn on a computer and load up a web page.
Pros:
Nice 10/100/1000 4-port router
10/100/1000 base WAN port
Port masking / forwarding is a great feature
Stealthy firewall (according to GRC)
QoS engine (Gamefuel) gives your gaming packets priority and lowers ping and lag.
Network Activity Display is slick.
Cons:
Wireless performance mediocre when compared to rated speed.
A bit pricey at this point.

If you already have a DGL-4300 there is really no need to go and grab this updated model unless you need the benefits of the farther and faster Wireless N network. While 802.11n doesn't come close to 300mbps, it does offer an increase in performance and range over the 802.11g version. If you are currently using a standard Linksys, Belkin or heaven forbid a Trendnet router, the DGL-4500 is sure to impress in looks, features and performance.
I'd like to thank D-Link for sending this unit our way for a review. It was interesting and a lot of fun. It actually handled the backbone of LANtabulous earlier this year as well. If you have any comments, questions or general feedback regarding this review, please post it at the "Comments" link below.